Category List
Tag List
Tag Cloud
Archive
Pre Loved - Seasonal Clearance Sale
Sep 10, 2018
Registered charity Shuttlewood Clarke Foundation is pleased to announce a pre loved seasonal clearance sale to be held at Markfield congregational church hall on:
Saturday 24th November 2018 from 10.00 am – 1.00pm, Markfield Congregational Church Hall, Main Street, Markfield, Leicestershire, LE67 9UU
The Shuttlewood Clarke Foundation provides support care and friendship to the elderly and adults with disabilities through a variety of different services. Helen Baxter Activities Coordinator at the Shuttlewood Clarke Foundation said "we would be delighted to welcome you to our pre loved sale which will raise funds and support our unique local charity. The event will provide the ideal opportunity to browse a selection of quality clothing, shoes and accessories - you may even pick up a bargain on the bric a brac stall!'  She added "your support at our events in much appreciated, tea, coffee and raffle entry will be available for a small charge'
For more information please contact - Helen Baxter on 01530 244914 - email hello@shuttlewood-clarke.org or visit www.shuttlewood –clarke.org                
Shuttlewood Clarke Foundation – Registered Charity 803525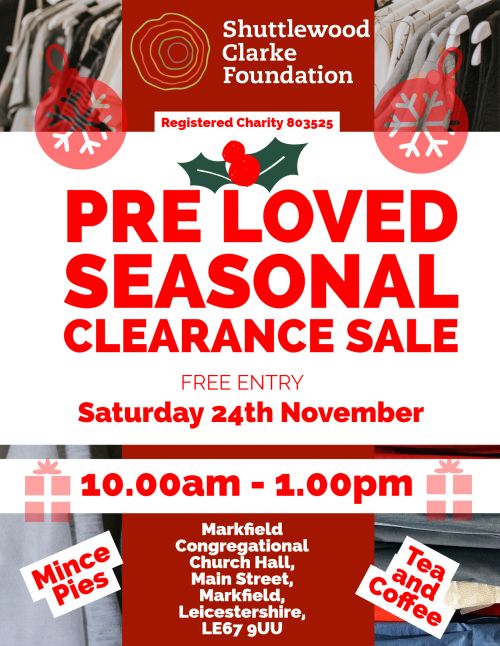 Tags:
Please add a comment
You must be logged in to leave a reply.
Login »