Shuttlewood Singers
 Shuttlewood Singers – with Caroline Sharpe – Tuesday's  - 1.00pm – 3.00pm – Ulverscroft Activity Centre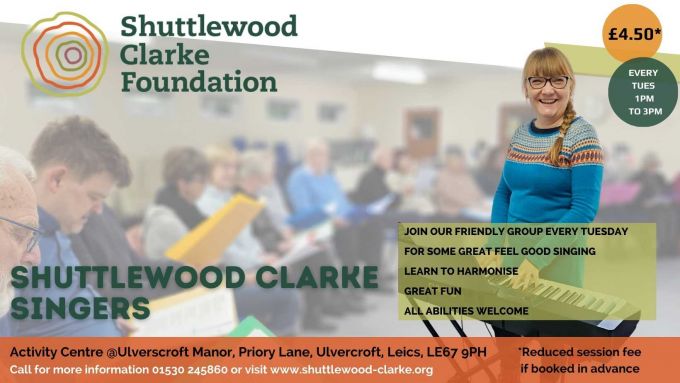 Shuttlewood Singers – with Caroline Sharpe – Tuesday's  - 1.00pm – 3.00pm – Ulverscroft Activity Centre 
It's hard not to smile when you are in the company of Caroline. Her unique ability to engage with the group is a testament to the longevity and attendance of the group.
With fun warm up exercises, regular favourites and new weekly challenges, these sessions always give the right balance of attention to the song in hand.
There's a-lot to be said for the power of song in a social setting and 'Shuttlewood Singers' is a core favourite of our wellbeing activities and really does help to lift your mood.
The group stops at half time for a hot drink and biscuits.
£4.50 per session or £3.50 if booked and prepaid before the day to secure your place (payments for classes are non-refundable)
Please call 01530 245860 for more information and to book a session.