Category List
Tag List
Tag Cloud
Archive
Aviva Community Award Fund
Nov 07, 2014
Leicestershire charity awarded £10,000 grant at national community awards
7th November 2014:
A nomination from Leicester insurance broker, Arthur J. Gallagher, has helped secure a £10,000 grant for local charity, the Shuttlewood Clarke Foundation, through the prestigious Aviva Broker Community Fund.
The Community Fund is a national competition open to all insurance brokers, giving them the opportunity to secure much-needed funds for an important cause in their local community. Local broker, Arthur J. Gallagher, which has an office on Western Boulevard in Leicester, entered its client, the Shuttlewood Clarke Foundation, for the prestigious award for its work supporting the elderly and adults with disabilities throughout Leicestershire.
A glittering awards ceremony was held this week at the Honourable Artillery Company in London hosted by rugby world cup winner and Aviva Community Fund ambassador Will Greenwood where the Shuttlewood Clarke Foundation fought off stiff competition from five other finalists in the 'Helping with Health and Disability Needs for All Ages' category to scoop the £10,000 top prize.
Stephen Webb, Professions Development Director, based at the Arthur J. Gallagher office in Leicester, who nominated the Shuttlewood Clarke Foundation for the award, comments: "We are always looking for ways in which to support local communities in the areas that we operate and, as a specialist broker in the not-for-profit sector supporting more than 8,000 charitable organisations nationwide, are only too aware of the funding challenges many charities face.
"We have worked with the Shuttlewood Clarke Foundation for eight years now and have always been very impressed by the work they do, providing outdoor education activities, wellbeing services and advice to those that need it most. They're not a large charity but they have a big vision. The work they do is incredibly valuable, and that's one of the reasons we chose them as our 'charity of the year', here in Leicester.
"The Aviva Community Fund is an annual initiative open to insurance brokers like us and we thought it was a great opportunity to help raise the profile of the Foundation on a national scale while hoping to secure a much-needed funding boost. We had our fingers tightly crossed this week for a win and we're absolutely thrilled they picked up the top prize — they are most certainly deserving of it."
As an ambitious charity with plans, Alan Norman, Chief Executive Officer of the Shuttlewood Clarke Foundation, already knows exactly how the money will be spent. He explains: "The Foundation is set in 55 acres of grounds. Naturally, for some of our less mobile visitors, getting around the site can prove challenging, which is why, for 10 years, we've operated an electric buggy service between the various properties at the centre. Every year, 1,800 visitors use this vital service.
"However, in the last 10 years, technology has moved on and we've been fundraising to purchase an additional buggy with a wheelchair adaption so we can make this service truly accessible to everyone. The £10,000 grant will help us secure a new, state-of-the-art buggy and we're absolutely delighted that, in a matter of months, this service will be up and running. We're incredibly grateful to Steve and the team at Arthur J. Gallagher in Leicester for the nomination, and to Aviva for recognising what we're striving to achieve here, and awarding us this much-needed funding."
The Shuttlewood Clarke Foundation is based in Ulverscroft in Leicestershire.  Its vision is to provide opportunities for anyone with an illness or disability, the elderly and young people to enable them to get the most out of their lives. Through a range of innovative services the charity gives its visitors something to look forward to, provides them with a sense of purpose and enables them to look ahead with an appetite for life.
For further information about Arthur J. Gallagher, please visit www.ajginternational.com or call the Leicester office on 0116 254 6221.
To learn more about the Aviva Broker Community Fund, please visit http://broker.aviva.co.uk/community-fund/about/what-is-community-fund/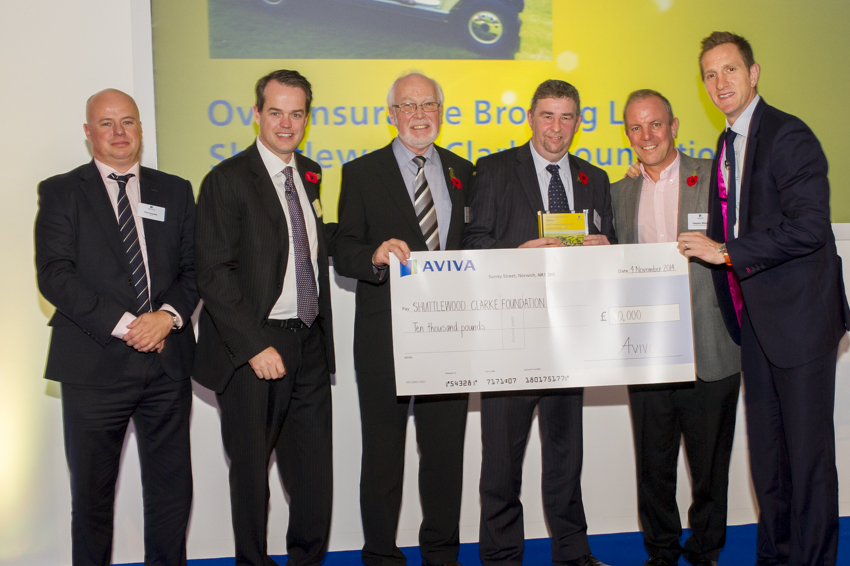 Photo caption: (L – R) Phil Bayles, Aviva; Maurice Tulloch, Aviva; Stuart Gill, Shuttlewood Clarke Foundation; Alan Norman, Shuttlewood Clarke Foundation; Stephen Webb, Arthur J. Gallagher; Will Greenwood, rugby world cup winner and Aviva Community Fund ambassador.
Ends
Tags:
Please add a comment
You must be logged in to leave a reply.
Login »